GMP in-house Training Courses are an ideal solution and a cost-effective way to train a larger number of people (ten or more) than you would normally want to send to an external course. You determine date and time, and the training is provided in your premises.
Our GMP in-house trainings help your employees to put the GMP requirements into practice, to understand why they have to observe GMP rules and to develop a positive attitude towards GMP. In discussing of questions, your staff becomes familiar with the GMP rules, and solutions to concrete problems are found.
Training content depends on your individual needs and ideas. A course can take into account the specific situation in your company and considers the latest GMP publications. Then both the training course's content and structure are tailored to the target group - also considering group-dynamic effects.
Please click here to see the list of in-house training courses you can choose from.
If you are interested in an in-house course, please contact us by e-mail.
Click here to download a PDF version.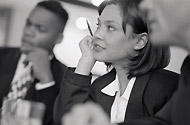 Your GMP trainers have been working for us as speakers for many years. Only GMP trainers with a track record from our open GMP Education Courses or European Conferences can conduct in-house training courses as associated partners. Each special field is covered by a different trainer. This way you can be sure that you have a competent GMP trainer, no matter if the course is about current Part 11 trends or about cleanrooms for aseptic manufacture.
Every participant receives a folder with detailed training documentation. As a recognised organisation for advanced training, we issue certificates that document the participation in the training measure and that are accepted by the supervisory authorities.