So far, it was possible to become ECA member through attending a regular ECA course or conference (exception: participation in ECA webinars). Starting in January 2007 this changed – in addition to automatically becoming member by participating in an event, the Academy now also offers two new membership opportunities: individual membership and company membership, including all sites in a country. This started very positive and we already received applications for individual membership and also for company memberships, including applications from internationally operating companies in the first two months of 2007. This big interest also supports the notion of ECA's impressive reputation. In 2007, we will further promote and advance these opportunities. For instance, global players in the pharmaceutical industry will be able to sign up for worldwide membership, granting all employees around the globe the membership benefits. Due to the company Membership we expect an increase of Members of up to 30% in 2007. More information on the new membership opportunities is available here.
Foundation of Two New Interest Groups
The year 2006 also marked the foundation of two new interest groups: in June the ECA established the ECA Rapid Microbiological Methods (RMM) Working Group at the German Federal Agency for Sera and Vaccines. This non-political, independent and science-based group is unique in Europe. Its goal is to exchange knowledge and opinions between industry and regulatory authorities on an expert level, thereby helping both get a better understanding of the requirements for the introduction of RMMs and supporting the application of advanced microbiological methods in Europe. Currently it counts 11 representatives from the European Pharmaceutical Industry and the German Federal Agency for Sera and Vaccines, the Paul-Ehrlich-Institute (PEI). More information can be found here.
During its annual meeting in July, the Advisory Board decided to establish the European QP Association. With this membership organisation the ECA wants to provide QPs in Europe with a platform allowing them to exchange experience, discuss latest regulatory requirements, to identify and address difficulties and challenges and to support a harmonised European approach. The association is lead by the four ECA Advisory Board Members Dr Bernd Renger, Qualified Person, Germany, Richard Bonner, Qualified Person, UK, John Taylor, MHRA, UK, and Rudolf Völler, Office of the Darmstadt Administrative District, Germany, as well as Dr Christopher Burgess, Qualified Person, UK. In November 2006, Dr Bernd Renger was named Chairman of the association.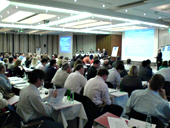 The interest in the group throughout Europe and beyond underlined the importance of the newly formed association. More than 150 delegates from 26 countries attended its first meeting, the QP Forum held in the fall, to share experience and discuss the critical areas of the QP's daily work as well as roles and responsibilities of the Qualified Person with representatives from EMEA and national authorities.
Only six months after its foundation, the European QP Association already counts more than 600 members from more than 30 countries. Find out more about the European QP Association.
GMP In-house Training – 2006 another Successful Year
With respect to in-house training courses, the past year tied in with the previous years. Again, the European Compliance Academy conducted numerous trainings. We offer this service in cooperation with CONCEPT HEIDELBERG and rely on a pool with high-level speakers who are specialised in various areas and who are professionally, methodically and didactically top qualified – guaranteeing high quality trainings. To find out more about In-house trainings, please read here.
CD-ROM "GMP Navigator" – New Release 9.0 under New Name
Traditionally, the GMP Navigator CD-ROM is a very unique and useful tool. The new release 9.0 was issued in February under the new name "GMP Guideline Manager". Like in the years before, this version contains more than 800 guidelines from
FDA,
EC,
PIC/S,
ICH,
WHO and
GHTF,
comprising several thousand pages of regulations. It also holds the FDA Warning Letters from the past 3 fiscal years. Through a comfortable search function users can browse the complete CD content by key words and directly retrieve guidelines and regulations they are specifically interested in.
The free of charge CD-ROM is an exclusive service for ECA event attendees and members. Company members receive a multi-user licence of the GMP Guideline Manager software. Click here to read more about the GMP Guideline Manager Software 9.0.
GMP Certification Programme – Increasing Awareness
The ECA Certification Programme continued to experience an increasing awareness in 2006. Professionals rely on the high-quality programme to advance their knowledge and to get an additional qualification – making it a constant for GMP professionals. Today, ECA offers the following qualification levels:
ECA Certified Validation Manager
ECA Certified Quality Assurance Manager – Pharmaceutical Production –
ECA Certified Quality Assurance Manager – API Production –
ECA Certified Quality Control Manager
ECA Certified Pharmaceutical Engineering Manager
ECA Certified Computer Validation Manager
ECA Certified Regulatory Affairs Manager
As in the previous years we'll further develop the programme to offer new certifications.
ECA Working Programme 2007
The ECA is based on voluntary work of its members and Advisory Board members. This will not change in 2007.
The following activities are planned for 2007:
Extension of strategic partnerships with interest groups and universities – expanding the network.
Promotion of the free of charge multi-user version of the GMP Guideline Manager for ECA company members.
Establishment of the GMP Forum for Medicinal Products as the most important forum in this area in Europe in cooperation with the University of Heidelberg.
Advisory Board Members
Unfortunately, just recently we lost a great friend and true partner in the ECA Advisory Board. Mike Edgington, aged 54 years, passed away on 7 January 2007. We still don't really want to realise this loss and the gap he leaves, personally and professionally. Apart from his enormous knowledge which he employed to make great contributions to ECA activities, Mike was always straightforward and very helpful. The founding of the first ECA Working Group on Rapid Microbiological Methods (RMM) is due to a great deal to his commitment and dedication.
The Advisory Board Members are: