Membership
With 2,824 members, ECA has become the leading European association with regard to GMP and FDA compliance. The members from all over Europe and abroad represent 45 countries.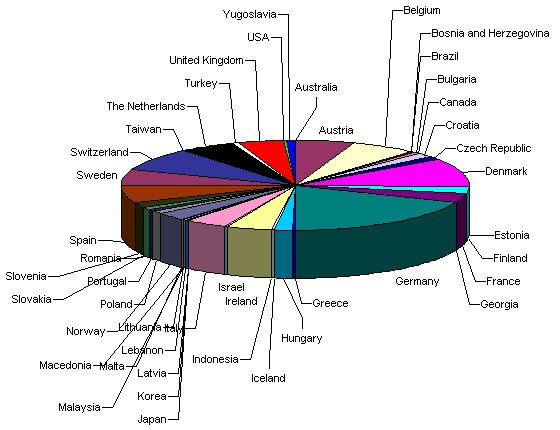 GMP In-house Training - A Successful Start in 2004
The European Compliance Academy conducted a great number of in-house training courses in Europe. This new service is realised together with CONCEPT HEIDELBERG. Today, 8 GMP trainers who also give excellent lectures at ECA's open education courses and conferences guarantee a high level of quality. If you would like to know more about this offer, please click here.
CD-ROM "GMP Navigator" 7.0
The version 7.0 of the CD GMP Navigator will be released by end of February. Today, the number of GMP Guidelines on the CD-ROM has increased to more than 800! Guidances, recommendations as well as final rules and directives from the following authorities are on the CD-ROM:
FDA
EC
PIC/S
ICH
WHO
GHTF
This year, also the recommendations published by the Active Pharmaceutical Ingredient Committee (APIC) are included on the CD.
Every participant of an ECA event will receive the CD-ROM free of charge.
GMP Certification Programme
The GMP Certification has become the leading qualification programme for GMP professionals. This enables ECA members to achieve an outstanding qualification. Today, ECA offers the following qualification levels:
ECA Certified Quality Assurance Manager - Pharmaceutical Production -
ECA Certified Quality Assurance Manager - API Production -
ECA Certified Quality Control Manager
ECA Certified Pharmaceutical Engineering Manager
ECA Certified Computer Validation Manager
ECA Certified Regulatory Affairs Manager
Many of the participants make use of the opportunity to take part in this GMP Certification Programme by attending 3 events. The Programme will be extended considerably again in 2005.
ECA Working Programme 2003 and 2004
Also in the future, ECA will depend exclusively on the voluntary work of its members and Advisory Board members. Only because of this support and the co-operation with CONCEPT HEIDELBERG is it possible for us to carry on offering all of the services free of charge to our members.
Advisory Board Members
Also in 2005, we were able to extend the ECA activities through the work of our Advisory Board with members from the industry, associations and authorities. The Advisory Board members are: